Chocolat
(1988) - Denis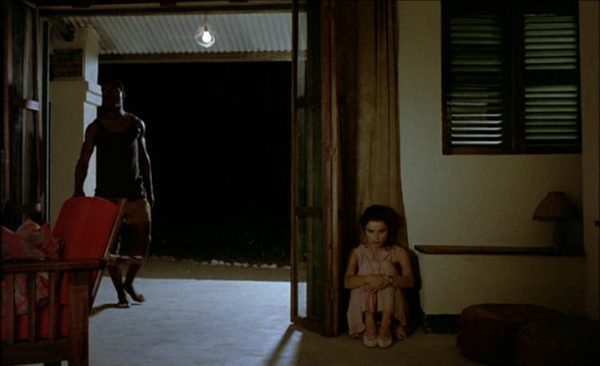 ...amidst bronzed and black African faces the white skin color evokes something akin to death...
Watching this again since the first time about 15 years ago, I realized how Mireille Perrier (Boy Meets Girl, Un Monde Sans Pitié) looks very much like Claire Denis, as she plays a woman reminiscing about her childhood in French colonial Cameroon, mirroring the director's own background.
France, an aptly named (for a film about French colonial Africa) young girl, lives an idyllic life in northern Cameroon with her parents (the Dalens) and black servants in her perfect sheltered life in a racist country. Everything gets shaken a little when Luc (Jean-Claude Adelin), a former missionary turned laborer gets brought in along with the local black workers. France's parents, Aimée (Giulia Boschi) and Marc can't get a handle on enigmatic Luc. He is kind of an instigator using his white man gone native shtick against clueless whites and obedient blacks alike. Tension rises and the forbidden passion surfaces when a good servant Protée (Isaach De Bankolé) gets pushed by Luc's antics.
Chocolat is a very subtle predecessor to Denis's White Material last year. You can see her progression as a filmmaker in those twenty years- loose structure, striking cinematography and visual poetry. What's not changed is her ability to capture those brilliant moments of alienation/contrasts, sexual tension and lurking-right-underneath-the-surface violence like no other.