We Are What We Are
(2010) - Grau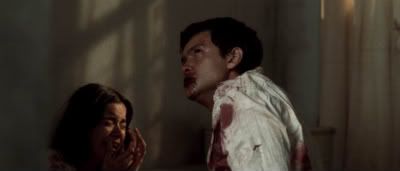 The film starts with a disoriented old man dying in an urban shopping mall in modern day Mexico. Cops are called in when a mortician finds an undigested woman's middle finger in the old man's stomach.
It is difficult to review a film like We Are What We Are without revealing too much since much of the film's strength lies in keeping things under wraps. Let's just say it tells the disintegration of one of the most unusual families you will ever encounter and shows their determined, violent resolve to stay alive. Played with great urgency, acting in the film is excellent throughout. The anxious ridden family members are: Alfredo (Francisco Barreiro), the passive, sexually ambivalent older son. Julian (Alan Chávez), the hot-headed younger brother, their seductress sister Sabina (Paulina Gaitán of Sin Nombre) and their disapproving mom Patricia (played with gusto by Carmen Beato).
Director Jorge Michel Grau creates an amazingly suspenseful and assured first feature. It moves along briskly, not giving us enough time to think about its fuzzy details or logic. With the beautifully somber nighttime cinematography and effective sound design, it works like a good old-fashioned giallo with a grittier urban sprawl backdrop. I am partially in disagreement with We Are What We Are being sold as a cannibal movie. Just don't expect another Texas Chainsaw Massacre here. One can even draw the parallels between the family and the ancient Maya ritual involving human sacrifice. Watching the film is a visceral and tense experience. It is an inventive genre exercise done masterfully. Grau is a real talent and I can't wait to see what he will come up with next.