The Vanquishing of the Witch Baba Yaga
(2013) - Oreck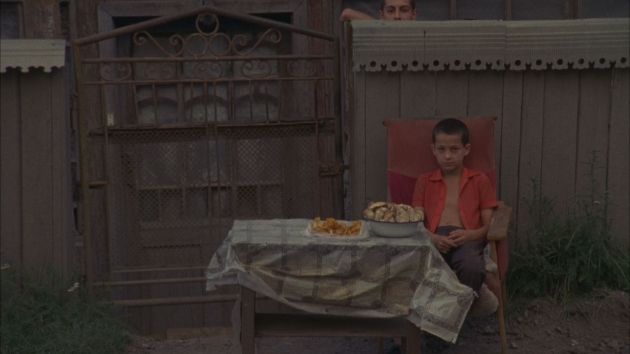 As a lover of old, rustic folktales and being married to a descendant of an eastern European Jew, Baba Yaga holds a special place in my heart. Creepier and more twisted than the Grimm Bros' tales, Baba Yaga tells a story of a witch who lives in a hut that stands on giant chicken legs and eats children who get lost in the forest. In its many variations, the witch is often perceived as both venerable and monstrous.
Jessica Oreck's ravishing new film is not a mere anthropological documentary on Eastern Europe. As with her first two beautiful films, Beetle Queen Conquers Tokyo and Aatsinki: The Arctic Cowboy, Baba Yaga also falls neatly into region specific ethnographic study at first, this time, of the Slavic world. Of course, there is the region's bloody history with the footage of wars, destruction and remnants of The Soviet empire everywhere throughout the film. But then we realize how universal these images are -- cutting down trees, a wedding, highrise apartments, urban decay....
Mixing carefully selected quotes and voiceovers (in Russian and Polish) over soft, faded 16mm film shot footage of Russian landscapes (both city and forest) and animated sequences of a stunningly illustrated old storybook (its images strongly resemble the famous Russian illustrator Ivan Bilibin's work), Baba Yaga takes on that magical, dreamy quality I've only experienced in watching Chris Marker's Sans Soleil.
Aided by woodland critters and magical beings in the forest, the two lost children escape Baba Yaga's spell. Is Baba Yaga a mere villain or the gate keeper of nature against human civilization encroaching upon its borders? Oreck gently equates the ambiguous folktale with modern day human existence where we face increasing man-made (un)natural disasters. The common theme coursing through all of her films has always been our relationship with nature: that nature is our friends, not enemies. Without ever being didactic, the filmmaker presents us with a meditative visual essay with much grace and beauty.
Memories, legends, nostalgia, dreams all intermingle in The Vanquishing of the Witch Baba Yaga. The film hypnotizes you for 72 short minutes that seem eternal -- in a good, waking-dream way. Baba Yaga is perhaps the most mature work to date from Oreck. Her infinitely wise, deeply philosophical approach to film, aided by Sean Price Williams's lyrical cinematography, is exactly what I look and hope for in documentary filmmaking. It's one of the first great films I've seen this year.
I can't wait to see this film again. Someone please pick it up and put it in theaters. In doing so, you will be making a great contribution to the world!
The Vanquishing of the Witch Baba Yaga will be shown as part of FSLC and MoMA's New Directors New Films series. The showtimes are on March 22 at 1:30pm and on March 24 at 6:15pm. For tickets, please visit
ND/NF website
.