Lore
(2012) - Shortland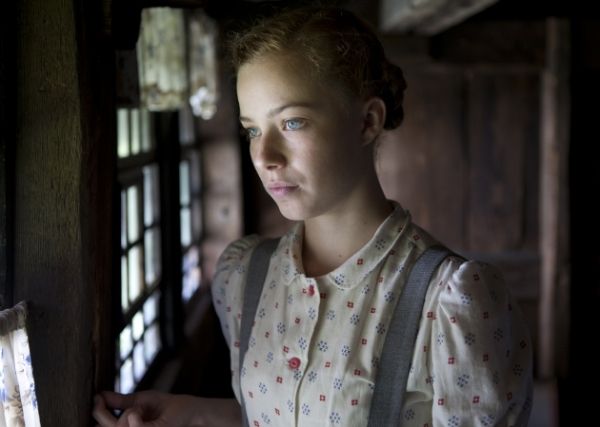 After her well-received debut feature Summersault (2004), a small indie film about a young woman's sexual awakening that launched the careers of Abbie Cornish and Sam Worthington, directing a WWII drama in Germany with all German cast is a curious choice for Aussie director Cate Shortland. But It's Shortland's knack for portraying a budding female's physical and mental struggle that connects the two films. Newcomer Saskia Rosendahl plays the red-lipped perfect Nazi youth whose world is shaken after finding out her parents' roles in the death of millions.
It's 1945. Hitler's dead. Hannalore (Rosendahl) and her four young siblings are left to fend for themselves after their Nazi parents are imprisoned. Having been informed that there is a relative living in Hamburg, the children set out on foot from their opulent mansion deep in the Barbarian mountains to an unknown, scary world. Things get hairy quickly as they run out of food (and milk for the baby) and shelter.
They team up with a suspicious young man, Thomas (Kai Malina), who crosses their path. Lore's younger siblings take a shine on him but she can't let her guard down. Germany is divided into zones with road blocks everywhere. Thomas, who may or may not be a death camp survivor, uses his street smarts to help Lore and her siblings to get to the British zone (because Soviets hate Germans, they were told). There is an obvious sexual tension between Lore and Thomas.
Rosendahl's typical Aryan beauty is accentuated by blissful cinematography, used effectively here as she gets battered, dirtied up and sun-blistered. There is a certain Grimm's fairytale quality to Lore's journey, with many grown up monsters in the woods waiting to pounce on a frightened little girl. The film makes a point of the war robbing one's childhood, that there are victims on both sides, several times. But thanks to beautifully balanced direction and great performances, the cliché-prone material never comes across as a didactic bore.
Lore opens February 8 in New York and Los Angeles and gets wide releases in March. Check the Music Box Films website for more information.