NYFF screening of White Material was preceded by a short,
Chicken Heads
by Palestinian filmmaker Bassam Ali Jarbawi, a Columbia Univ. Film student. A film about a shepherd and his two sons in the Occupied Territories. Touching and beautifully shot.

White Material
(2009) - Denis *Q & A with director afterwards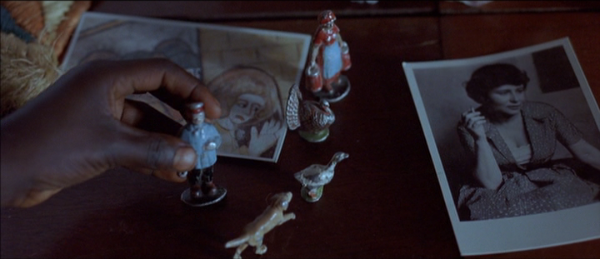 This may possibly be my favorite Denis film and a front runner for my favorite film of the year. Denis goes back to the colonial Africa and tells a story of a coffee plantation owned by a white family caught in civil war. Maria Vial (Isabelle Huppert), a matron of the family is perhaps a clueless, arrogant white woman, as she tries to hire fleeing locals to finish coffee harvest, oblivious to total chaos around her. But we are definitely not watching some helpless puzzle piece in an overwrought, meticulously planned Haneke movie. Vial is not quite the white devil. It's her ingrained sense of entitlement that makes her a curio as she refuses to leave and calling other whites undeserving of the beautiful land.
We are in the Denis territory and there are some amazingly blissful sequences- Maria riding a motorcycle on the dirt road, piles of child soldiers all doped up with pills and junk food spread out in the Vial house...just to name a few. Huppert fits perfectly in the white woman role. Her glaring whiteness is used well against the black continent. Isaach De Bankolé's Ché like rebel leader the Boxer, Michel Subor (The old man with the dogs in L'intrus) and Christopher Lambert as the deceiving husband, Nicolas Duvauchelle as the wacko son round up the elusive supporting cast. White Material is not her most abstract film yet Denis still manages to keep the film absorbing and enigmatic without ever being didactic or boring. It's definitely headier and feels more substantial than her other works. And the sense of freedom I feel when I watch a Denis's film that I like the most is still intact. It's invigorating.
Again at the Q & A session, people started asking stupid questions: What's her motivation behind such and such? Why the transition of her son? What's your motivation for making this film?
Denis was very gracious and answered each questions. I don't think about the motivations of the characters, she said. She comes across as a very thoughtful filmmaker. The most poignant question was about children who portrayed child soldiers. Denis told us the way she went about it: There was a school nearby the location they were shooting in Cameroon. She talked with the teachers and kids had to be trained as to how to hold the gun properly and whatnot. They were told the basic storyline of the film and all aware of what they were doing. She got amazing performances out of them.
Jamusch regular Isaach De Bankolé who worked with Denis previously(I can't Sleep, No Fear, No Die) and a young black actor, William Nadylam, who plays a charismatic Mayor in the film were present for the Q & A too. Good times.