35 rhums
(2008) - Denis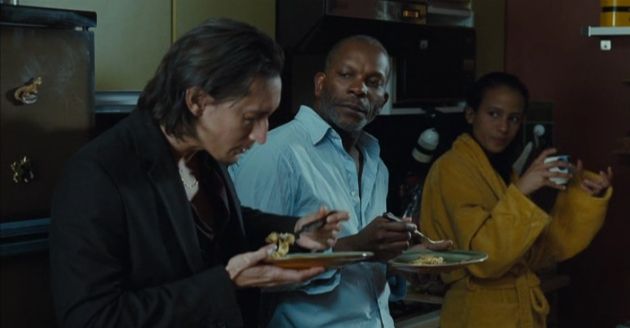 A family drama so understated yet deeply affecting, 35 rhums showcases Claire Denis's versatility as a filmmaker. It presents the life of an extended Parisian family consists of long-time neighbors in the same building. They are Lionel (Alex Descas), a stoic metro conductor and his daughter, Jo (Mati Diop), a college student, Gabrielle (Nicole Dogue), a cab driver and a one time lover of Lionel who still has feeling for and Noe (Grégoire Colin), a loner who lives up in the penthouse & has been a best friend/love interest of Jo since their childhood.
Times are changing. Lionel's buddy Réne, kills himself after retirement from his longtime metro job. Jo is getting too old to be a daddy's girl anymore. Noe is selling the house and leaving the country because his 17-year old cat just died and nothing in Paris is holding him back(?). Denis weighs each characters equally and the cast is marvelous. Each small gesture, each unspoken moment has profound resonance.
But the film's largely about Lionel and Jo. It's perhaps the tenderest father-daughter relationship I've seen on screen. As they embark on a short road trip to visit the grave of Jo's mother in Germany, they know that they are spending time together like that for the last time and we know this too, even though no words are ever uttered between the two about it.
Said to be an homage to Ozu, 35 rhums comfortably slips in to the universality of human conditions. Paper lanterns in Germany, rice cookers in an African household in France are completely in harmony with their surroundings. It's a beautiful film. I might have to try Vendredi Soir again.