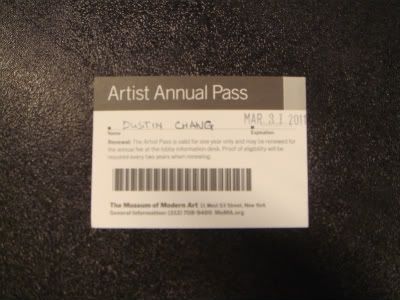 It's not mentioned anywhere on their website, but it really exists! Thanks to our good artist friend Josh McPhee letting us in on the secret, Nic and I were able to get Artist Passes this weekend at MoMA (Museum of Modern Arts) for $25, which is good for a year. What this means is that you don't have to pay a whopping $20 admission every time you visit there, which has been the deciding factor for many of us not to visit the coveted institution. On top of that, you can get in for any of the film showing at MoMA theaters for a buck fifty instead shelling out $10 per ticket.
Ok, it's about time you ask, the "what do you have to do to prove you are a working artist?" question. There are some guidelines- in general you have to be an artist who exhibited your work in the last two years...blabbity blah. Nic printed out her recent exhibition at Brooklyn Historical Society from their website. But me, as you know, I'm no real artist. I was fully prepared to make a spectacle if they rejected me. Whatever the outcome, I was going to write about the experience either way. All I did was to print out the first page of my website and some of my movie reviews at Twitch.
After waiting in a long line with gaggle of tourists at the information desk, we were lead away by a nice gentleman to the other side of the museum (at the MoMA Theater entrance side). At the administration desk, there we were to fill out the application form and prove our Artist-ness. I handed in my "proof", fully expecting a big, ugly confrontation. But an intern (presumably, don't get me wrong, I love interns. They are the backbone of any art museum) who processed our application was very nice and gave out our passes, hassle free. The deal is so good, I had to let y'all know.
It was a madhouse on Saturday. Tim Burton show was sold out which we had little interest in the first place anyway, but the South African artist, William Kentridge exhibit was really great. Always loved his expressive charcoal drawings with a hint of blue of the state of pre/post Apartheid South Africa. Not only his drawings, there were number of his animations on display, including his diorama projection of the Magic Flute. Here are some of the images: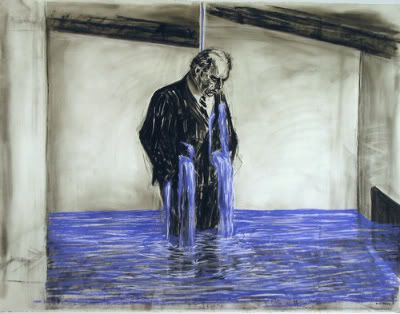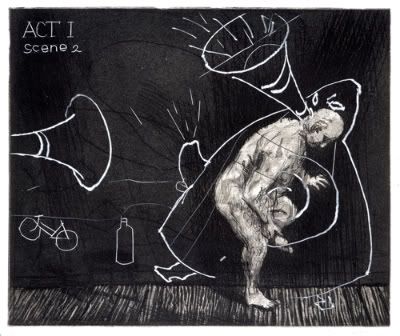 Some links to his animations:
Sobriety, Obesity and Getting Old
Mine
weighing...and Wanting