Pushwagner
(2011) - Benestad,Hanssen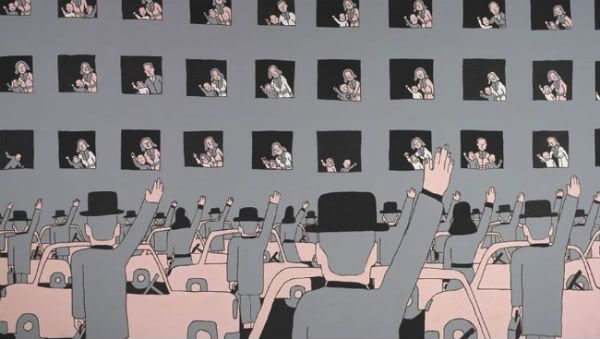 An aging Norwegian pop artist, Hariton Pushwagner, is the subject of this larger-than-life documentary, directed by Even Benestad and August B. Hanssen. And it's a great doc about an eccentric artist, rivaling Crumb in its charm and scope.
It is clear from the beginning, this pint sized, chain smoking, always inebriated man let us know just who is in charge; he dictates the first scene of the film, "Ok, it starts with me reading a book, now you ask me a question 'what are you reading Push?' and I just hold up the book over my face like this." We soon find out that there is no need to cover his face. Resembling Harry Dean Stanton on a bad day, his face, devastated by years of drug abuse and alcoholism, is worth a thousand words. The book he is reading is Lord Byron's Selected Letters. He goes on saying that one has to live like he reads. "This will be a meta-movie," he predicts.
Pushwagner's philosophy: one has to be living in action, not in theory, is what he realized late in his life. As the lawsuit proceedings against his former assistant, Morten Dreyer (in his muddled mental state, Pushwagner apparently signed a contract enabling Dreyer all the rights to his artwork in the 1990s), put much stress on his mental health and aging body, he knows that he hasn't got much more time left. His only regret in life is everything but the moment right now. His only pleasure left in life is the booze, fame, TV appearances and meeting adoring fans.
The main attraction of the documentary is of course, Pushwagner's idiosyncratic art: crudely drawn, yet extremely detailed Kafkaesque nightmare of banalities of everyday life. Benestad and Hanssen makes the most of these bright colored, repetitive figures and buildings to their advantage in computer animation sequences such as the artist's best known work, Soft City.
A born exhibitionist, Pushwagner is not shy about his dark past. In one of the many hilarious sequences in the film, he eagerly shows the film crew around where he spent his nights in his homeless days- next to an air duct of a roof of some building. It kept him warm on winter nights. He loses his trace of thoughts in an impossibly tiny shack where he used to sleep. He and the team also reenact his collapse from a kidney failure and subsequent hospitalization. But it has a lot of tender moments too. A footage of him visiting the deathbed of his long time mentor/collaborator, novelist Axel Jensen is very touching.
Lack of dates and contexts surrounding the artist, unless you are Norwegian, it is perhaps hard to imagine the whole magnitude of the tragicomedy that is Pushwagner's life. But with loose, intimate and visually inventive storytelling with compelling hero, Pushwagner is a great entertaining documentary and the one to remember.