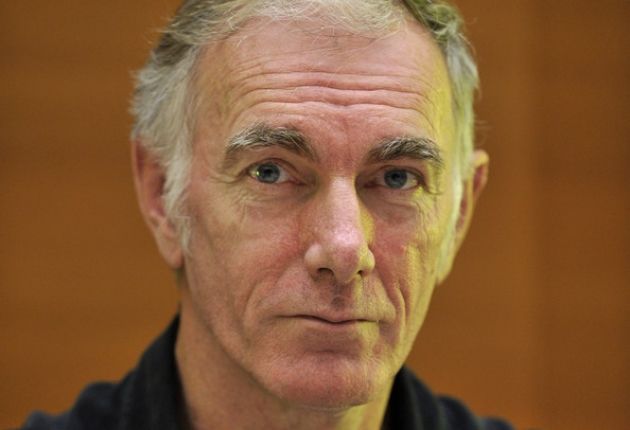 Go for Sisters, a new film by director/writer John Sayles, the godfather of American independent cinema (Return of the Secaucus Seven, Brother from Another Planet, Lone Star, Limbo), is just as I expect in a John Sayles film; beautifully written, beautifully acted, mature and always relevant -- the qualities so rare in mainstream American cinema these days. Recently I had a chance to talk to him briefly on the phone about his new film, Edward James Olmos and the country's immigration reform debate.
Can you tell me the origin of GO FOR SISTERS?
Chinese smugglers of illegal immigrants are called Snakeheads. There was a case in New York where the head of this organization got indicted for human trafficking. She was operating in a hole in the wall place down on Canal Street. They would come first to Belize, Guatemala by ships, then to Mexico through our southern borders or through Canadian border up north. They come from China for economical reasons. So for many people, she was a good business woman providing valuable services for those who want to come over.
Then I had this situation in my head for a long time -- about two very close friends whose lives have taken different paths and are reunited in the most awkward of circumstances. I've heard that there is a stricter rules now in monitoring parolees in the parole system. It's in the film where Fontayne (Yolonda Ross) has to pee in the cup in front of her parole officer, Bernice (LisaGay Hamilton) -- the two High School friends who haven't seen each other for a long time. So those two things just came together.
It's such a beautifully acted film. Did you have certain actors in mind for these roles?
I usually don't do that when I make a film. There are a lot of actors I want to work with but that doesn't mean I can get them -- sometimes their schedule doesn't work out, they might not want to work on a reduced scale, they are having babies.... But when I was writing Go for Sisters, I had these three actors (Hamilton, Ross and Edward James Olmos) in mind.
I've worked with LisaGay before in Honeydrippers. I've auditioned Yolonda for LisaGay's role. I remember jotting down next to her name, 'not quite right for the role but a terrific actor, will need to work with her in the future'.
It's so opposite of Hollywood. There are no mainstream films about two African American women in their 40s.
There are so many talented actors who are not getting work, let alone good roles. Lucky for me, they both were available for this project.
Eddie James Olmos is an actor I've been admiring for a long time. We've met at film festivals and such before but I never got a chance to work with him before.
Edward James Olmos is also credited as one of the producers, how did he come on board as a producer?
He's a legendary actor. He's done a lot of films. And half of the films he's been in had to be independent. He was in most of Robert Young films.
Yeah I remember watching Robert M. Young's great film, CAUGHT, which Olmos produced also.
Not only that, he is a director as well. So he knows what making small independent movies, shooting on a shoestring budget is like. There are a lot of components to producing and he was a great help.
So what's Freddy Suarez (Edward James Olmos's character)'s backstory? Why is he helping these two women out?
As it was portrayed in the film, first it was money. Because Freddy was disgraced when he was in the police force, the pension is gone. He needs to pay for paying the mortgage. Two thousand dollars is not much money but he is in a desperate situation. So he takes the job to help Bernice and Fontayne to locate Bernice's son. The second reason is, as he learns along their trip, he wants some sort of redemption. Not that what happened to his career was his fault, he still wants to redeem himself for doing something right.
It's an amazing performance. I hope he gets some kind of recognition for this.
It can happen. Hopefully many people will see the film and I am actively talking to many of my actor friends to vote for him come awards season.
I can't help thinking about what would be left out while watching your films compared to Hollywood films. There are two beautiful scenes I want to talk to you about: And these are the scenes that if GO FOR SISTERS was a Hollywood film, they would surely be cut out.
Right. For Hollywood projects, there can be no breathing room. It has to be a roller coaster ride and you have to move on. I do a lot of script doctoring for Hollywood films so I know how that works. The thing about doing your film your way is that there is no financial pressure coming from studios.
I love the scene with Bernice and Fontayne at the AA meeting, where Bernice understands what Fontayne has been going through for the first time. The other scene I love is Freddy buying the young Mexican mother and her little girl breakfast.
That's the trade off, isn't it? On one hand I am shooting a movie in 14 days with under a million-dollar budget, barely making it. On the other hand, I have a freedom to really get into creating characters and give them more nuances.
I know it's always a struggle for you to find funding for your film. The last time I interviewed you for AMIGO which was a historical period piece, you told me that one of the main reasons you shot that film in the Philippines is because you could do it cheap down there. I am wondering what you could've done differently if you had more money for GO FOR SISTERS.
(Without hesitation) I would have liked to pay actors and crew better. I mean the reason I could've (barely) made Go for Sisters was because its budget was low enough to qualify for the SAG Modified Low-Budget Scale agreement, which I understand, is about the same as the California State minimum wage. Because of this I could worked with many of the actors (besides those three principals) I always wanted to work with but didn't get a chance to -- Hector Elizondo, Harold Perrineau and Isaiah Washington. So I would've definitely paid them more - actors, crew, everyone involved.
Can you tell me your assessment on the climate of Washington in terms of immigration reform?
The problem with immigration laws in this country is that they aren't practical, they're symbolic, and the government is unwilling to enforce our minimum wage laws. If immigrant workers had to be paid minimum wages, fewer employers would hire them, and we'd have a better idea of what their true employment situation is. Then we could arrange a work-permit and visa system -- this has been done before. Instead we have a free-for-all that is both racist and hypocritical.
Go for Sisters played at SXSW this year and has a theatrical release on Nov. 8 in NY, Nov. 15 in LA and regional roll out in Nov/Dec.