Making films is an all consuming affair: the time and energy and money and talent that put into one film production is staggering. Yet, year after year, tens and thousands films go unnoticed, unseen, not just in this country, but everywhere. Disappearing Act, a New York tradition for the last half a decade, has devoted itself to seek out some of the most daring, noteworthy films from continental Europe, which would've undoubtedly gone undistributed and unseen in the States. I had covered Disappearing Acts in the Past. This year, I got to see 3 films in advance. The series runs April 4 - 13. For a complete list of the films and tickets, go to
MoMI website
.
Programmed by David Schwartz, Chief Curator, Museum of the Moving Image

Co-presented by Museum of the Moving Image and the European Union National Institutes for Culture, Panorama Europe is a unique showcase of seventeen contemporary European features and a program of short films. Formerly known as Disappearing Act, the newly re-named festival continues the mission of showcasing vital European filmmaking as distribution remains challenging for foreign-language films in the United States. Panorama Europe gives New York audiences what may be their only chance to see these acclaimed films from the festival circuit on the big screen. This year's festival will take place at Museum of the Moving Image in Queens and at Bohemian National Hall in Manhattan.
SEDUCE ME
(dir. Janko Mandic, Slovenia)
With cheers and a cake, Luka (Janko Mandic) moves out of a youth home where he spent the last 9 years of his life. He finds a lodging and a job at a slaughterhouse with the help of a social worker. His emotionless mother is still alive but he's not in a hurry to see her. At the job, he befriends Ajda (Nina Rakovec), a foreman's daughter who is working there because she has to pay her abusive dad back for the new car she just bought. And the foreman is none too happy about their relationship. Ajda is a thrill seeker and only wants pleasure in life which suits young Luka fine at first, but her willful disinterests in his life and background rubs him the wrong way. While she undresses him, he protests that they don't know anything about each other.
Luka has a good head on his shoulders and a good heart, and is tasting adulthood for the first time. I'm pretty sure Mandic's natural boyish presence will bring out strong paternal/maternal instincts out in the audience. Just like Antoine Doinel and many others before him, Luka makes you root for him as he struggles through life's many incongruities.
The setting of
Seduce Me
is not a glamorous one. Drab scenery in Ljubljana, Slovenia is seen through the windows of the bus which Luka takes to his even more depressing job. It contrasts with the beautiful forest seen from the train as Luka visits his mother. I interpret the title as Luka crying out for the life ahead of him, the lure of his future. However drab his circumstances are, we know that he is too good and earnest for it and deserves something better. It reminded me strongly of
Atmen
(Breathing) by Karl Markovics, from a couple of years back. They both are about a good youth trying to survive something called adulthood.
Seduce Me
is a beautifully written and directed feature film debut by Marko Santic. I'd love to see more from him.
HONEYMOON
(dir. Jan Hřebejk, Czech Republic/Slovakia)
In veteran Czech director Jan Hřebejk's new film, the honeymoon period is astonishingly short.
It's the wedding day of a well-to-do, handsome couple, Tereza (Anna Geislerová) and Radim (Stanislav Majer). It's an ideal setting for the happy couple - friends and family, a big lakeside house, nature, booze, dancing and lots of shrieking children. Everyone is having a great time... except for one: a nebbish optician who calls himself Jan. This uninvited guest shows up at the reception, claiming to be Radim's old schoolmate. As the day winds down, Jan's sour talk on the marriage takes a toll on Tereza's mood. He refuses to leave until she opens his wedding present which turns out to be an urn filled with someone's remains. She has to confront Radim about his past and needs to decide if she wants to marry someone she hardly knows.
Honeymoon
is a tense drama in the same vein as Thomas Vinterberg's
Celebration
. The taboo subject here is severe bullying. Hřebejk skillfully drops hints from the beginning that this idyllic setup has a dirty secret. The film asks us just how much of one's past sins others can forgive and live with. It also puts so-called 'masculinity' under the microscope. Jan and his dead friend's experience is a blood curdlingly horrendous one. The savage bullying sequences involving a effeminate boy being forced to dress up as Nastassja Kinski in the flashbacks are heart wrenching. The heartbreaking third act examines that people might never change who they really are. Hřebejk leaves the film open ended, suggesting that the couple's future is uncertain. And thanks to this film, I can't look at Nastassja Kinski the same way ever again.
FISH N' CHIPS
(dir. Elias Demetriou, Cyprus)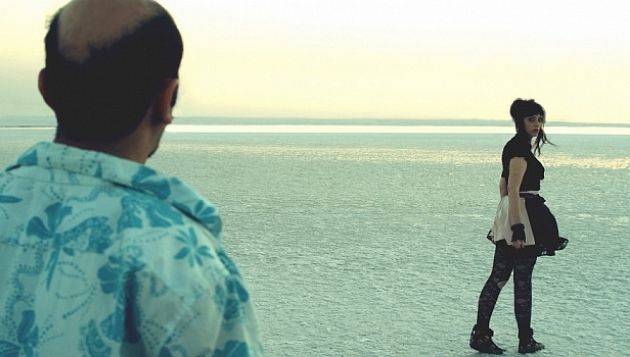 Elias Demetriou, a citizen of Cyprus, Britain and Greece, tries to navigate through a complicated modern European geo-socio-political landscape. The film's protagonist is Andy (Marios Iannou, giving a down-to-earth, affecting performance here), a Fish n' Chips shop manager in a working class London neighborhood. Andy decides to take a trip back to Cyprus with his aging mom and his East-German girlfriend Karin and her grown-up daughter Emma. Once in Cyprus while crashing at his seemingly well-to-do brother's house, Andy decides to set up a chip shop, only to find out that Cypriots, who are comfortable basking in Mediterranean sun and eating kebabs, have no appetite for thick battered fried fish. After the drug fueled beach party to jumpstart the shop goes wrong and his senile mom goes missing, Andy has to make a choice: does he stay in his native country where he is seen as a foreigner or does he go back to London, where most of his adult life has been spent, where locals still harass him and call him Paki?
Fish n' Chips tells an all-too-familiar, down and out story of an immigrant whose loyalty and cultural identity become at odds. Despite strong, earnest performances by everyone involved, with on-the-nose dialog and a tiresome plot, the film ends up soaked in melodrama.