Valley of Love
(2015) - Nicloux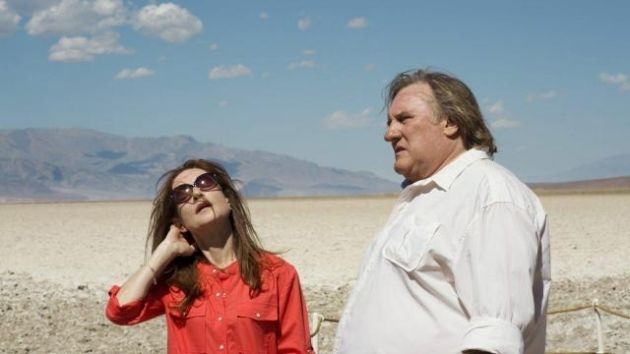 It strikes me as peculiar that Gerard Depardieu and Isabelle Huppert, two of the French cinema's titans, each appeared in hundreds of films (Depardieu 217 films, Huppert 126 to date according to imdb), had previously worked together in just 2 films - Bertrand Blier's Les Valseuse (1974) where young Huppert had a supporting role and Maurice Pialat's great Loulou (1980). But some 36 years later, they are together again in Guillaume Nicloux (Kidnapping of Michel Huellebecq, The Nun)'s Valley of Love, a film that takes place in Death Valley, playing themselves, well, sort of. Deeply anchored in these two veteran actors' chemistry, the film is much more than a coy, reflexive exercise in celeb-dom but a deeply affecting drama about grief and a physical manifestation of guilt.
Isabelle (Isabelle Huppert) and Gérard (Gérard Depardieu), French actors who were a couple 30 years ago but divorced and now each with own family, are summoned by their dead son who sent each a letter just before his suicide, to be in Death Valley for a week and be at specific places at specific times because he will reappear in front of them. It's November, but the sun is blazing and temperature reaches almost 140 degrees day and night.
Isabelle gets there first, spending most of her time in the hotel pool or in the shade while fighting bad cell phone receptions. This is Isabelle Huppert we know, at least physically - a petite redhead with more pronounced freckles on her pale skin because of unforgiving desert sun.
Then comes Gérard, a beast of a man, who is sweating profusely and wheezing with his each step. He is grown more beastly now- simply gigantic, following the footsteps of other greats who let themselves go- Welles and Brando. "Are you happy?" she asks, "How could I be, being like this?" he retorts. But never a prude, he lets his girth out in the open most of the screen time.
There are some funny bits about them being famous French actors being in America. A man recognizes Gérard at a poolside, but doesn't remember any of the titles that he saw him in. He asks for an autograph and Gérard signs it Bob DeNiro. Later they were asked which one is more popular in France.
Isabelle is the one who feels more guilty about being a bad parent. She sent away their son to a prep school when he was young and never really connected with him. Gérard saw him from time to time but not much better. Their son was living in Mission District of San Fran and had a boyfriend. He had visited Death Valley before. That much we know. Did he have AIDS? The grieving mother can only speculate. In his letters, he adamantly asks both to ask each other to come because they wouldn't come alone. Out of duty (Gérard) and guilt (Isabelle), they did. He says that he is leaving early to make an important appointment before the end of promised week. Besides, he thinks the whole thing was their son's last attempt to have them get back together And it's working somehow.
As the days pass by, strange things start to happen. In a gripping sequence, we follow Gérard in his night time stroll. He looks up on Isabelle's hotel window (it's a bungalow style two story hotel) full of yearning and sees the lights inside go off. Then he hears her scream, and the camera tracks behind him as he slowly, clumsily makes his way to her room. No intruders are found but she claims that someone was in her bed and grabbed her ankles. He tries to convince her that she had a bad dream, but someone's left a physical mark on her ankles. Later in a Lynchian sequence, Gérard encounters a girl with a deformed face at an empty tennis court at night. She says she was waiting there for him, to die.
What's great about Valley of Love is two veteran actors' effortless rapport. With their complete ease with each other, you could totally believe that they were once a couple and have known each other forever. Huppert, prolific as ever, is no surprise here and gives a beautifully fine tuned, vulnerable performance as a grieving mother. Depardieu, whose real life antics drew more spotlight than his acting outputs in the last decade or so (though I haven't seen Inspector Bellamy or Welcome to New York), proves here why he is still one of the greats. Despite the physical discomforts, he gives a very understated, introspective, tender performance. The best scenes are perhaps them reading each other's letter from their son that are addressed to them. The long letters tell missed opportunities, regrets and love.
Death Valley, the place full of mysticism and spirituality, makes a great backdrop for a ghost story. Nicloux uses its physicality in cinemascope to highlight what's invisible, intangible - grief, regrets, love. Valley of Love is a quietly affecting film with beautifully nuanced performances by two of the greats.
Valley of Love played as part of this years Rendez-vous with French Cinema. It opens theatrically on 3/25 at FSLC. Please visit
their website
for details.