Tu dors Nicole
(2014) - Lafleur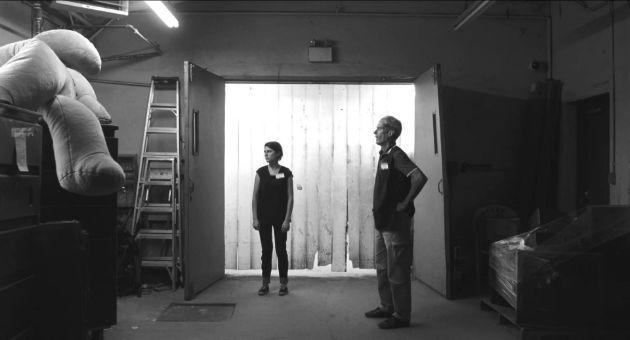 After making an appearance at The Directors Fortnight section of Cannes Film festival last year, Tu dors Nicole screened at TIFF and was included in Canada's Top Ten feature films of 2014. It's playing as part of New Directors/New Films series at FSLC on 3/20 and at MoMA on 3/22. Please visit ND/NF website for more info.
Quebec based filmmaker Stéphane Lefleur's wry slacker comedy
Tu dors Nicole
(
You are sleeping, Nicole
) stars Julianne Côté in the title role of Nicole, a 20 something young woman with one foot still firmly lodged in childhood and the other slightly hovering over somewhere else.
It's the beginning of summer and her parents are away on vacation. She has a big house and an outdoor pool all to herself. Other than working at a local thrift shop, she spends most of her time either in bed or aimlessly walking/biking around town with her best friend, Véronique (Catherine St-Laurent) who works at an office.
Their tranquil existence is shattered when Nicole's moody older brother and his band mates set up shop in their parents' living room to practice. The band's new drummer, JF (Francis La Haye) is kinda cute in that grungy way (like their 90s style music), but it's pretty obvious that he is more interested in pretty blonde Véronique than her.
Nicole's boredom occasionally breaks with surreal moments in everyday life- the neighbor picking up her dog's doo-doo in the yard with a vacuum cleaner, a frail looking neighborhood boy Martin, whom she used to babysit before he made advances on her, now having a svelte baritone voice, for his voice broke way too early for his age (he's like 8), JF's mysterious First-Aid kit turning out to be a best tomato sandwich making kit, perching a giant stuffed toy over a used funiture and a geyser shooting up in her backyard pool, like in Iceland.
Her life gets a little brighter when she gets her first credit card in the mail. But she doesn't really know what to do with it other than paying for ice cream sundaes at the local outdoor ice cream shop. But on a whim, she buys plane tickets to Iceland for herself and Véronique. They learn Icelandic phrases in preparation - vacuum cleaner in Icelandic is ryksuga, for instance. But what's in Iceland? What would they do there? "Nothing. We do nothing somewhere else," Nicole replies wryly.
Beautifully shot in contrasty black and white by Sara Mishara,
Tu dors Nicole
is especially gorgeous in exterior night scenes: as an insomniac, Nicole partakes in nighttime baseball game, standing under the park lamp dazed, while the ball drops to the ground near her. She walks around at night in the neighborhood which are only illuminated by street lamps. She hears whale songs in the night winds and hitches a ride, driven by a tired father driving in circles in the hopes of putting his baby in the backseat to sleep.
After getting fired from the thrift shop for stealing donated clothes, she resorts back to babysitting lovesick Martin who tells her he can wait for her. "Take your time, experience the world, then come back to me", he says in his velvety voice. Then they play Cowboys and Indians.
Côté beautifully underplays her character, covering up all the scruples of growing up with a wiry smile. There is glimpse of natural beauty in her when least expected - in front of electric fan or with the Indian war princess make up on.
Tu dors Nicole
plays with elasticity of time- everything seems to be in slow-motion when you are young but it accelerates in speed as you grow older. Nicole's somnambulistic life gets a dose of reality check when she runs into her former High School sweetheart who's getting married. And Véronique can't get away from the job to go to Iceland because she has to pay the rent. It's not svelty Martin who's on the verge of adulthood, but it's her and she is not ready to admit that yet.
Lafleur's talent is in his delicate writing aided by droll visual composition. Small things in Nicole's life have a tendency to resurface in physical forms in surrealistic way. I find his deadpan humor and subtle, surrealist touches irresistibly charming.